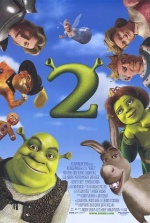 Shrek and Princess Fiona are back from their happy honeymoon to pay the first visit to Fiona's parents, the King and Queen of the Kingdom of Far, Far Away. But the new in-laws are expecting to meet a stately prince, so they're in for a surprise when Fiona introduces them to a giant green ogre and his donkey friend. When King Harold realizes that his new son-in-law is a green-coloured monster, and their daughter has a problem with the magical spell gone wrong, he is emotionally shocked. Fiona's parents haven't ever dreamt of such green future for their daughter so King Harold decides to take Shrek out of his sight and return Fiona to her former appearance with the help of the Fairy Godmother (voice of Jennifer Saunders), Prince Charming (voice of Rupert Everett), and the famed ogre killer feline Puss in Boots (voice of Antonio Banderas).
Tagline
- In summer 2004, they're back for more....
Not so far, far away...
- Once upon another time...
Movie Info
Year:

IMDB Rating:

7.7

IMDB Votes:

50791

Countries:

Genres:

Tags:

Blockbuster, Sequel, Character name in title, Father daughter relationship, Shark, True love, Redemption, Mistaken identity, Queen, Scene during end credits



Domestic:

$441,226,247 (48.0%)

+ Foreign:

$478,612,511 (52.0%)

= Worldwide:

$919,838,758

Opening
Weekend:

$108,037,878 (4,163 theaters, $25,951 average) % of Total Gross: 24.5%

Release:

4,223 theaters