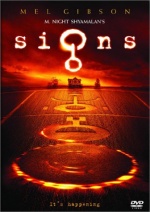 M. Night Shyamalan presents another paranormal-themed thriller where Graham Hess (Mel Gibson), a priest loses his wife (Patricia Kalember) in a car accident, denying God then and remaining an ordinary farmer who devotes himself to rural work and to raise his son Morgan and daughter Bo (Rory Culkin, Abigail Breslin) along with his younger brother (Joaquin Phoenix). The faith is lost, the job is quitted, and one day Hess family encounters the unknown, namely the 500-foot circles shaped with mathematical exactness. Hess is astonished and enraged thinking these circles simple are somebody's prank. But this explanation soon proves its groundlessness: Graham is confronted with the new uncommon, inexplicable events as he began to see and hear strange things. Uncovering the truth, Hess runs the more risk as his family is under the threat...
Tagline
- A message. A warning. A sign...of things to come.
Believe
- It's Not Like They Didn't Warn Us.
The first sign you can't explain. The second sign you can't ignore. The third sign you won't believe.
Movie Info
Year:

IMDB Rating:

6.9

IMDB Votes:

62791

Countries:

Genres:

Tags:

Blockbuster, Helicopter, Murder, Twist in the end, Blood, Revenge, Baseball bat, Brother sister relationship, Car accident, Veterinarian



Domestic:

$227,966,634 (55.8%)

+ Foreign:

$180,281,283 (44.2%)

= Worldwide:

$408,247,917

Opening
Weekend:

$60,117,080 (3,264 theaters, $18,418 average) % of Total Gross: 26.4%

Release:

3,453 theaters