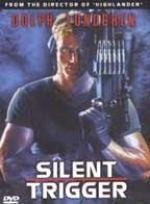 Action superstar Dolph Lundgren (Universal Soldier) delivers big-screen entertainment in the adventure thriller that's loaded with special effects and hard-hitting action...SILENT TRIGGER! Lundgren plays a top political assassin who's teamed with a sexy female counterpart (gorgeous Gina Bellman) to gun down a target. But when emotions begin to cloud his thoughts, it sets off an explosive series of events leading to the ultimate climax of kill or be killed! From the director of Highlander and The Shadow, SILENT TRIGGER is action -packed entertainment that'll blow you away!
Tagline
- They trained him to kill. Now they want him dead.
Kill or be killed.
- The terms are clear. Kill or be killed.
User Reviews of Silent Trigger
Movie Info
Year:

IMDB Rating:

5

IMDB Votes:

828

Countries:

Genres:

Tags: