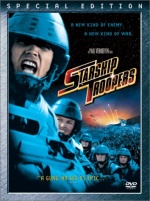 The time is the future. Johnny Rico joins the military after graduation to become a citizen and for the love of his high school sweetheart. In the war against the bug aliens of Klendathu, the military is a very dangerous place to be. Johnny works his way through several battles and with the help of his friends and comrades, helps turn the tide of the war, and save the human race.
Tagline
- A new kind of enemy. A new kind of war.
Forget the insecticide, bring on the nukes!
- Genocide doesn't compare to this.
In Every age their is a cause worth fighting for, but in the future the greatest threat to our survival will not be man at all. Now the youth of tomorrow must travel across the stars to face an enemy more devastating then any ever imagined.
- Mankind just became an endangered species
- The only good bug is a dead bug
The paratroopers of the future are here... and their enemies aren't HUMAN
- They Came to Our Planet, They destroyed our cities, But on November 7th, They'll learn, They messed, With the wrong species.
This Fall, Tristar Pictures takes you to the front lines of the next frontier.
- When you battle 6 trillion enemies that will eat you alive, there are only two rules... EVERYONE FIGHTS. NO ONE QUITS.
You can't step on these ones
User Reviews of Starship Troopers
Movie Info
Year:

IMDB Rating:

6.8

IMDB Votes:

46678

Countries:

Genres:

Tags:

Media, Missile, Nuclear weapons, Explosion, Blood, Blood splatter, Death, Female nudity, Nudity, Satire



Domestic:

$54,814,377 (45.2%)

+ Foreign:

$66,400,000 (54.8%)

= Worldwide:

$121,214,377

Opening
Weekend:

$22,058,773 (2,971 theaters, $7,424 average) % of Total Gross: 40.2%

Release:

2,971 theaters