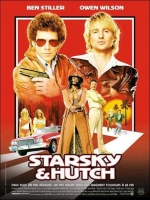 "Starsky & Hutch" takes place in the 70s. Two guys played by Ben Stiller and Owen Wilson are stripped of their badges, done by a drug kingpin (Vince Vaughn) and totally ripped off in a disco contest. Vaughn's character is a maniacal drug lord with an absurd moustache who is prone to dramatic outbursts. So, yeah, they got some scores to settle. Driving a red and white Ford Torino and solving cases with the assistance of their informant Huggy Bear (Snoop Dogg), they investigate their latest case, and soon realize that the culprit is none other than Reese Feldman (Vince Vaughn), the criminal involved in their first bust.
Tagline
- A new comedy from the director of "Old School" and "Road Trip"
Always on the lookout for a big bust.
- Crimebustin's a joint effort.
- Hitting the streets March 12th
The original partners in crime.
Tough on crime. easy on the eye.
User Reviews of Starsky & Hutch