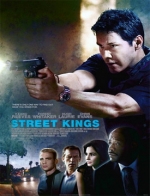 Street Kings is the movie with great actors creating great anticipation among the audience but unfortunately the high hopes could not be fulfilled. It has nothing out of the ordinary to offer with same corrupt cop story line though the film left with the audience wishing of something more and exciting. Keanu Reeves is leading as Tom Ludlow the fundamental character of the film. Though he is trying to play his part perfectly but one can imagine Neo. Moreover the film feels like a much seen story. It is strange that the director David Ayer cant get out of the same plots which he earlier used in his movies.
The movie has big names but still the observer is probing a separate uniqueness of the film. In the movie Tom Ludlow an expert police detective who is trying to live a much difficult life after his wife's demise. He is part of Ad Vice which is an exceptional division of the L.A.P.D. he has his colleagues of Amaury Nolasco, John Corbett and Jay Mohr working hard so that general people can spend a safe and secured life. But capital punishment of his colleague finds him fighting against the entire police force to which he has been dedicated for long.
He has a sneaking suspicion on almost everybody in the entire police team inclusive of the person in charge of the team Captain Jack Wander played by Forrest Whitaker whom he had deduced as his father character. Whitaker character cannot be acknowledged as over here he does some strange act but is convincing as the Captain Jack Wander. The whole movie is basically running after some subplots. The film is depicting some of the cruel slaughters that cannot be ignored. So you can avoid watching the movie easily and save yourself from monotony.
Tagline
- Their City. Their Rules. No Prisoners.
User Reviews of Street Kings
Movie Info
Year:

IMDB Rating:

7.3

IMDB Votes:

8569

Countries:

Genres:

Tags:

Murder, Gun, Los angeles california, Twist in the end, Video surveillance, Blood splatter, Death, Police, Police officer killed, Shot in the chest



Domestic:

$26,418,667 (41.5%)

+ Foreign:

$37,206,621 (58.5%)

= Worldwide:

$63,625,288

Opening
Weekend:

$12,469,631 (2,467 theaters, $5,054 average) % of Total Gross: 47.2%

Release:

2,469 theaters