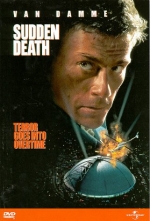 During the seventh game of the NHL Stanley Cup Finals, a group of terrorists led by a former government employee, Joshua Foss (Powers Boothe), take the Vice President of the United States Daniel Binder (Raymond J. Barry) hostage and demand to transfer $1 billion to their account electronically by the end of the game, threatening to blow up a gigantic stadium packed with fans. Among spectators is a former firefighter named Darren McCord (Jean-Claude Van Damme) attending the hockey game with his daughter Emily (Whittni Wright) and his son Tyler (Ross Malinger). When the girl is suddenly kidnapped, the infuriated father sets out to foil Foss's nefarious plan and save the hostages.
Tagline
- Some games you can't afford to lose.
They said Game 7 would be a war. They didn't know the half of it.
- Action goes into overtime
Terror goes into over-time.
- This Christmas, action goes into overtime.
User Reviews of Sudden Death
Movie Info
Year:

IMDB Rating:

5.1

IMDB Votes:

5595

Countries:

Genres:

Tags:

Helicopter, Martial arts, Explosive, Exploding car, Shot in the forehead, Scream, Politician, Torture, Fight, Hero



Domestic:

$20,350,171 (31.6%)

+ Foreign:

$44,000,000 (68.4%)

= Worldwide:

$64,350,171

Opening
Weekend:

$4,782,445 (1,681 theaters, $2,845 average) % of Total Gross: 23.5%

Release:

1,687 theaters