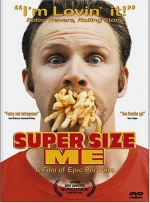 Documentary filmmaker Morgan Spurlock makes himself a test subject of this documentary about the commercial food industry. Rigorously eating a diet of McDonald's fast food, three times a day for a month straight. Spurlock is out to prove the physical and mental effects of consuming fast food. While doing this, Spurlock also provides a look at the food culture in America through it's schools, corporations, and politics as seen through the eyes of regular people and health advocates. "Super Size Me" is a movie that sheds a new light on what has become one of our nation's biggest health problems: obesity.
Tagline
- A film of epic portions.
The first ever reality-based movie ... everything begins and ends in 30 days!
User Reviews of Super Size Me
Movie Info
Year:

IMDB Rating:

7.6

IMDB Votes:

18771

Countries:

Genres:

Tags:

Title spoken by character, Restaurant, Hospital, Independent film, Obesity, Vomit scene, Experiment, School, Part animation, Fast food restaurant



Domestic:

$11,536,423 (55.9%)

+ Foreign:

$9,104,631 (44.1%)

= Worldwide:

$20,641,054

Opening
Weekend:

$516,641 (41 theaters, $12,601 average) % of Total Gross: 4.5%

Release:

230 theaters