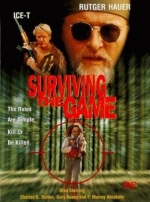 Mason, who lives on the streets, wants to cease his life when on the same day his two best friends die: His dog and an older man with whom he shared his food and roof. Just in time Cole, from a charity organization, can prevent his suicide and also offers him a quite well paid job as servant for a hunting party in the Rocky Mountains. Mason accepts the job and flies with them to a hut in the wilderness where they prepare everything for the four rich businessmen who want to hunt something special. Mason does not yet know that he is the victim of their sports that should lead to the basic insticts of man, but they did not count with his cleverness...
Tagline
- Jack Mason knows he's going to die someday. But today he's not in the mood.
The rules are simple: kill or be killed.
User Reviews of Surviving the Game