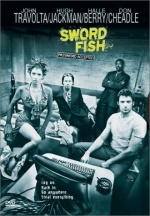 One of the most dangerous and perfidious spies in the world, charismatic Gabriel Shear (John Travolta), once a CIA agent and now a criminal genius, has the intention of stealing $9 billion in illegal government funds. To steal dirty money, however, he needs a superhacker able to break into the most complicated computer system. It is Stanley Jobson (Hugh Jackman) who can pull off the impossible. After having done time for hacking into the FBI's cyber surveillance systems, Stanley, penniless, computerless and solitary, leads a miserable life. Gabriel, along with his charming henchman Ginger Knowles (Halle Berry), entices him into breaking the law once again in exchange for custody of his daughter Holly (Camryn Grimes) he lost in a divorce.
Tagline
- Log In. Log Out. Leg It!
Log On. Hack In. Go Anywhere. Get Everything.
- Log on. Hack in. Go anywhere. Steal everything.
Once you know the password you can go anywhere.
User Reviews of Swordfish
Movie Info
Year:

IMDB Rating:

6.2

IMDB Votes:

31951

Countries:

Genres:

Tags:

Helicopter, Murder, Explosion, Twist in the end, Corpse, Exploding car, Fall from height, Shot in the forehead, Bus, Internet



Domestic:

$69,772,969 (47.4%)

+ Foreign:

$77,307,444 (52.6%)

= Worldwide:

$147,080,413

Opening
Weekend:

$18,145,632 (2,678 theaters, $6,775 average) % of Total Gross: 26.0%

Release:

2,688 theaters