Sydney aka Hard Eight
Movie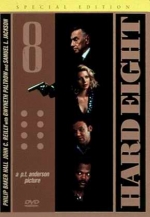 Sydney is a veteran gambler in his sixties who still spends his time at the casinos. When he meets John, a loser with no money at all, he sees him as a son and tries to help him. He takes care of him and teaches him all the tricks of his work. He also helps him to make a relationship with Clementine, a young girl who works at the casino as a waitress. John doesn't seem to be bothered by the fact that Clementine is also a hooker, but soon something happens that turns their lives upside down.
Tagline
- If you stay in the game long enough, you'll see everything, win everything, and lose everything.
When good luck is a long shot, you have to hedge your bets.
User Reviews of Sydney aka Hard Eight
Movie Info
Year:

IMDB Rating:

7.2

IMDB Votes:

7577

Countries:

Genres:

Tags: