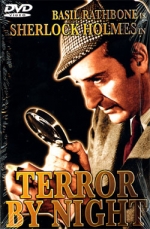 In this engrossing mystery thriller, master sleuth Sherlock Holmes (Basil Rathbone) and his faithful assistant Dr. Watson (Nigel Bruce) are hired by Roland Carstairs (Geoffrey Steele) to escort his widowed mother Lady Margaret (Mary Forbes) on a London to Edinburgh train. Roland fears for the safety of the priceless huge diamond called the Star of Rhodesia that his mother got on her 25th wedding anniversary many years before. Aided by Inspector Lestrade (Dennis Hoey), they guard Lady Margaret's compartment, however, Roland turns up dead and the jewel is stolen.
Tagline
- MURDER... at 90 Miles an Hour!
One Way Ticket to DEATH..!
User Reviews of Terror by Night