The 007 World Is Not Enough
Movie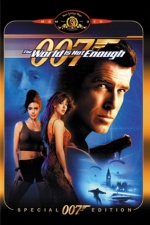 The 19th installment follows MI-6 Commander James Bond to a swiss bank in Bilbao, Spain where upon retrieval of three million pounds (British dollars) a siege takes place. James barely escapes the local police, leaving them questioning the mysterious shooting that occurred minutes ago. The next day, at the MI-6 Headquarters in London, Bond first greet Miss Moneypenny and gives her a nice souvenir: a cigar. Q then calls him in first to meet Sir Robert King then to report on the mission. It was then that the three million pounds was in fact, a bomb which destroys the Headquarters and kills King. Bond's only suspect, who happens to be the woman from the swiss bank blows herself up form a hot-air balloon. He then meets Sir King's daughter, Electra, who now own her father's oil company. But Bond's real mission has a new enemy named Renard a man who feels no pain whatsoever after a bullet was put into his head, who along with Electra and their henchmen plan to nuke Europe and everything in it's path. Now with the help of Christmas Jones, a research scientist, James must foil the terrorists plan before the entire Easternmost countries are wiped out forever. The world is not enough for disasters. And the world is not enough for terrorists. The world is only enough for one man- one hero: James Bond 007!
Tagline
- As the countdown begins for the new millienum there is still one number you can always count on.
Some men want to rule the world... Some women ask for the world... Some believe the world is theirs for the taking... But for one man, The World Is Not Enough!!!
- Danger Suspense Excitement There must be when he's around
User Reviews of The 007 World Is Not Enough
Movie Info
Year:

IMDB Rating:

6.3

IMDB Votes:

43961

Countries:

Genres:

Tags: