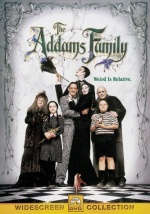 This dark, but nonetheless sparkling comedy follows a vivid family which inhabits the dull, strange house. All horrors here are stylized and are not terrible at all - quite the contrary, all these vampires and other evil spirits who, in fact, respectively are the Addams family, can win your sympathies instead of expected fear.
Tagline
- Creepy. Kooky. Spooky. Ooky.
It's not the same old Thing.
User Reviews of The Addams Family
Movie Info
Year:

IMDB Rating:

6.5

IMDB Votes:

19007

Countries:

Genres:

Tags:

Blockbuster, Sequel, Character name in title, Amnesia, Black comedy, Torture, Occult, Based on tv series, Fish out of water, Crossbow



Domestic:

$113,502,426 (59.3%)

+ Foreign:

$78,000,000 (40.7%)

= Worldwide:

$191,502,426

Opening
Weekend:

$24,203,754 (2,411 theaters, $10,038 average) % of Total Gross: 21.3%

Release:

2,411 theaters