The Assassination of Richard Nixon
Movie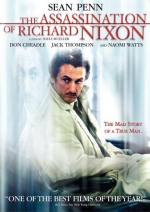 Based on the 1974 true story, this drama revolves around a paranoid and alienated businessman named Samuel Byck (identified in the film as 'Bicke' and played by Sean Penn) decides to take extreme measures to achieve his version of the American Dream being tired of preying on customers. Rejected for a government loan and spurned by his family, he focuses his resentment on the figurehead of the US capitalist system and obsessively plots his downfall. Just when the nation was feeling safe about boarding airplanes again, a frustrated salesman decided that it was incumbent upon him to rid society of the cancer that infected the seat of power in the United States. That would be Nixon.
Tagline
- Power is a state of mind.
The mad story of a true man.
User Reviews of The Assassination of Richard Nixon
Movie Info
Year:

IMDB Rating:

7.2

IMDB Votes:

7168

Countries:

Genres:

Tags:

Political, Character name in title, Divorce, Gun, Betrayal, Blood splatter, Revenge, Shot in the chest, Bus, Airplane



Domestic:

$708,776 (16.1%)

+ Foreign:

$3,699,038 (83.9%)

= Worldwide:

$4,407,814

Opening
Weekend:

$37,547 (5 theaters, $7,509 average) % of Total Gross: 5.3%

Release:

59 theaters