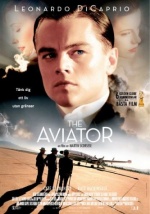 The early years of the famous magnate, Howard Hughes (1905-1976), are charted in this biographical chronicle where Leo DiCaprio stars. His eclectic career came through everything from oil, for which he cared little, to casinos, film, and aviation - as he turned millions of dollars into billions. His relationships with Hollywood's divas, including the elegant screen star Katharine Hepburn (Blanchett) and the sensual screen beauty Ava Gardner (Beckinsale) were also volatile. He was the incarnated mid-century icon of American wealth. Martin Scorsese directed this fast-moving, epic-scale biopic documenting the life and loves of the one of the most colorful Americans of the 20th century and also chronicles Hughes' struggle with his physical phobias and disabilities, and with his increasingly erratic, obsessive-compulsive behavior that forces him to isolate himself from the world.
Tagline
- Cate Blanchett as Katherine Hepburn the star who stole his heart.
For some men, the sky was the limit. For him, it was just the beginning.
- Imagine a life without limits.
Kate Beckinsale as Ava Gardner the passion he couldn't resist.
- Leonardo DiCaprio as Howard Hughes the man who became a legend.
Some men dream the future. He built it.
User Reviews of The Aviator
Movie Info
Year:

IMDB Rating:

7.6

IMDB Votes:

41695

Countries:

Genres:

Tags: