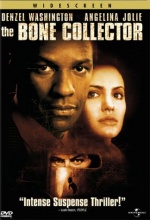 After an accident in a tunnel, a forensics expert (Denzel Washington) is left as a quadriplegic who is able only to move his head and one finger. Setting his finger to a computer, he is able to manipulate his environment with the help of a loving nurse (Queen Latifah). Even so, fearing seizures that could leave him a vegetable, he plans his "transition" with the help of a hesitational doctor friend. That all changes when he is confronted with clues from a serial killer that obviously are pointed to forensics investigation. The case clearly re-invokes his interest in life. A sharp, young cop's quick thinking saves the first crime scene. Recognizing her talent for forensics, he brings her (Angelina Jolie) unwillingly into forensics detection. Through radio contact, she becomes his eyes and legs on the scene. Michael Rooker also appears as the police captain, who has bungled earlier killings by the serial killer and is more interested in the press than in good police work. Ed O'Neill and Luis Guzman are support staff who aid Washington and run interference with Rooker.
Tagline
- Serial killer vs. forensic genius
Two cops on the trail of a brutal killer. They must see as one, they must act as one, they must think as one, before the next victim falls.
User Reviews of The Bone Collector
Movie Info
Year:

IMDB Rating:

6.2

IMDB Votes:

26916

Countries:

Genres:

Tags:

Helicopter, Murder, Twist in the end, New york, Police, Torture, Brooklyn bridge, World trade center new york, Chess, Neo noir



Domestic:

$66,518,655 (43.9%)

+ Foreign:

$84,975,000 (56.1%)

= Worldwide:

$151,493,655

Opening
Weekend:

$16,712,020 (2,587 theaters, $6,460 average) % of Total Gross: 25.1%

Release:

2,623 theaters