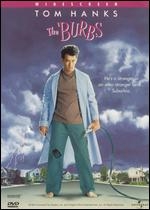 Ray Peterson (Tom Hanks) lives in an average American suburban neighborhood, the 'Burbs, where people know absolutely everything about each other. The residents' peaceful existence is shattered when some strange new neighbors move into a tumbledown house next to Ray. The eccentric Klopeks spend midnight hours digging in their back yard and firing the huge furnace in the basement where weird sounds are heard from. When an old man of the neighborhood, Walter Seznick (Gale Gordon), mysteriously goes missing, the suburbanites start to suspect the bizarre family. Armed with guns, pickaxes and binoculars, they decide to visit the creepy house to figure out the Klopeks' secrets. They will make a really shocking discovery...
Tagline
- He's a stranger in an even stranger land... Suburbia
He's a man of peace in a savage land... Suburbia.
- A comedy about one nice guy who gets pushed too far.
Life In The Burbs Will Never Be The Same Again!
User Reviews of The 'burbs
Movie Info
Year:

IMDB Rating:

6.3

IMDB Votes:

13279

Countries:

Genres:

Tags:

Product placement, Dream, Black comedy, Dog, Intrigue, Obsession, Occult, Stupidity, Studio logo segues into film, Fire



Domestic:

$36,601,993 (74.5%)

+ Foreign:

$12,500,000 (25.5%)

= Worldwide:

$49,101,993

Opening
Weekend:

$11,101,197 (1,952 theaters, $5,687 average) % of Total Gross: 30.3%

Release:

1,956 theaters