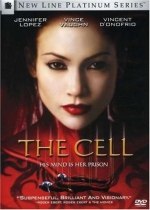 Carl Rudolph Stargher (Vincent D'Onofrio) is a schizophrenic serial killer who abducts young attractive women and encloses them in a glass cell hidden in the basement of an abandoned facility. Then he turns on a shower and videotapes how the cell is being filled with water for 40 hours and his victims are slowly going mad and drowning. The maniac attaches chains to steel rings that pierce his flesh and views the footage while hanging under the ceiling. It's a tough task for the police to bring the killer to justice. After the most recent abduction the police finally track him down. Unfortunately, Carl suffers a seizure and falls into an irreversible coma. Time is short and the location of his latest victim is unknown. When FBI Agent Peter Novak hears about Catherine Deane (Jennifer Lopez), a psychotherapist experimenting with a unique way of entering the mind of comatose patients, he decides to enlist her help to get the information he needs. Using her incredible skills, Catherine travels into the killer's mind and finds it to be a bizarre, abstract, violent and scary world. It's easy to enter this world but it's almost impossible to get out of it...
Tagline
- His Mind Is Her Prison.
Once you enter the mind of a killer, YOU MAY NEVER GET OUT!
- enter the mind of a killer
This Summer... Enter The Mind Of A Killer
- Can beauty tame the beast?
Movie Info
Year:

IMDB Rating:

6.1

IMDB Votes:

25060

Countries:

Genres:

Tags:

Helicopter, Twist in the end, Blood, Death, Disturbing, Police, Shot in the foot, Animal killing, Child in peril, Corpse



Domestic:

$61,334,059 (58.9%)

+ Foreign:

$42,821,784 (41.1%)

= Worldwide:

$104,155,843

Opening
Weekend:

$17,515,050 (2,411 theaters, $7,264 average) % of Total Gross: 28.6%

Release:

2,476 theaters