The Chronicles of Riddick
Movie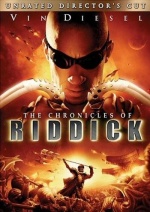 This sequel to Pitch Black follows escaped convict Riddick (Vin Diesel) as he finds himself between the hammer and the anvil in a raging galactic war. After spending five years on the run and pursued by ruthless bounty-hunters, Riddick is to fight for the future of the human race, which is about to annihilate by the efforts of an evil Necromongers. Notwithstanding he is not a hero but an antihero, he is an evil to defeat evil. Aided by the mysterious ethereal being named Aereon (Judi Dench), who helps him uncover the secrets of his past, Riddick has to fight against the evil Lord Marshal (Colm Feore) and his army. He meets the girl Kyra (Alexa Davalos), with whom he escaped from the monster-swarmed planet, together they should stand the battle that will determine the fate of the universe.
Tagline
- All the power in the universe can't change destiny
Pitch Black's darkest star is back.
- There is no future until you settle the past.
User Reviews of The Chronicles of Riddick
Movie Info
Year:

IMDB Rating:

6.2

IMDB Votes:

23248

Countries:

Genres:

Tags:

Murder, Sequel, Character name in title, Prison, Betrayal, Shootout, Anti hero, Fight, Suicide, Battle



Domestic:

$57,761,012 (49.9%)

+ Foreign:

$58,011,721 (50.1%)

= Worldwide:

$115,772,733

Opening
Weekend:

$24,289,165 (2,757 theaters, $8,809 average) % of Total Gross: 42.1%

Release:

2,757 theaters