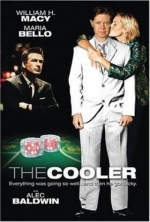 The Cooler is Bernie Lootz, and THE COOLER is a love story about the changing fortunes of this down-at-heels loser who has made a career out of spreading his virulent bad luck on the floor of Las Vegas' aging Shangri-La casino. When Bernie falls for a gorgeous cocktail waitress his bad luck is thrown into reverse.
Tagline
- Love ...you have to play to win
When your life depends on losing... the last thing you need is lady luck.
User Reviews of The Cooler
Movie Info
Year:

IMDB Rating:

7

IMDB Votes:

12555

Countries:

Genres:

Tags:

Murder, Casino, Gambling, Gun, Las vegas nevada, Female nudity, Mirror, Break up, Sex, Father son relationship



Domestic:

$8,291,572 (79.2%)

+ Foreign:

$2,173,216 (20.8%)

= Worldwide:

$10,464,788

Opening
Weekend:

$128,973 (11 theaters, $11,724 average) % of Total Gross: 1.6%

Release:

408 theaters