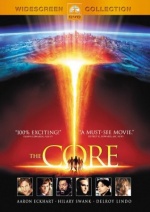 Scientists discover that bizarre things are happening on Earth's surface: birds lose their internal navigational ability, whales change their migration patterns, some people in Boston die at the same time for no apparent reason. They realize the cause of these anomalies: the Earth's core is about to stop spinning. If it happens the Earth will lose its electromagnetic shield and be incinerated by solar radiation. A team of the world's most gifted scientists is recruited to travel into the Earth's core in a fully functional subterranean and set off nuclear explosions in an attempt to restart the core's rotation and thus avoid fate of humanity.
Tagline
- Earth has a deadline
The core of the earth has stopped spinning[Belgian poster]
This Spring, Mankind's Greatest Threat Is Earth Itself.
Movie Info
Year:

IMDB Rating:

5.3

IMDB Votes:

13792

Countries:

Genres:

Tags:

Helicopter, London england, Product placement, Los angeles california, Death, Person on fire, San francisco california, Cell phone, Necktie, Studio logo segues into film



Domestic:

$31,186,896 (42.4%)

+ Foreign:

$42,311,715 (57.6%)

= Worldwide:

$73,498,611

Opening
Weekend:

$12,053,131 (3,017 theaters, $3,995 average) % of Total Gross: 38.6%

Release:

3,019 theaters