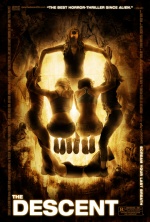 The sportswoman Sarah loses her husband and daughter in a car crash, but she survives. One year later, her friends Beth, Rebecca, Sam and Holly, leaded by Juno, invite her to explore a deep cave in the mountains. When the expedition is about three kilometers underground, a rock collapses and blocks the access tunnel, trapping the group inside the cave. With limited supplies, they try to find a way out, but sooner they face a hunger and savage breed of predators.
Tagline
- Afraid of the dark? You will be.
Face Your Deepest Fear
- Scream your last breath.
User Reviews of The Descent
Movie Info
Year:

IMDB Rating:

7.4

IMDB Votes:

25533

Countries:

Genres:

Tags:

Murder, Twist in the end, Betrayal, Blood, Blood splatter, Death, Disturbing, Neck breaking scene, Revenge, Stabbed in the chest



Domestic:

$26,024,456 (45.6%)

+ Foreign:

$31,005,153 (54.4%)

= Worldwide:

$57,029,609

Opening
Weekend:

$8,911,330 (2,095 theaters, $4,253 average) % of Total Gross: 34.2%

Release:

2,095 theaters