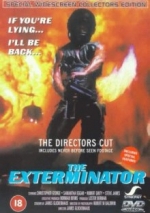 This brutal, action-packed drama tells the story of John Eastland (Robert Ginty), a war veteran who is determined to take the law into his own hands after his best buddy, Michael Jefferson (Steve James), is attacked and left permanently paralyzed by a gang of street thugs. Jefferson saved John's life while they were serving in Vietnam, so Eastland considers it to be his duty to take revenge for his brother-in-arms.
Tagline
- If you're lying, I'll be back...
He's not only smarter than the police-He's doing their job...He's the Exterminator
- THE EXTERMINATOR ... the man they pushed too far.
In war you have to kill to stay alive ... on the streets of New York, it's often the same.
- A one man army. A new kind of soldier in a new kind of war. [Video] [Australia]
User Reviews of The Exterminator