The Game of Their Lives
Movie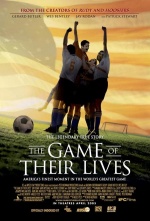 In 1950, few soccer players in the United States played the game with any particular degree of expertise. Most Americans had heard about the soccer only by hearsay, even though it was the world's most popular sport, and when the United States was invited to compete in the World Cup in Brazil, the country turned out to have no soccer team to call their own. The U.S. set out to recruit players in the soccer breeding ground of St. Louis, Missouri, where they found a group of young friends with almost absolute lack of an appropriate experience, only an unabashed love of the game.
Tagline
- America's finest moment in the world's greatest game.
The match against the British in Belo Horizonte, Brazil, on June 19, 1950 was "the game of their lives".
User Reviews of The Game of Their Lives
Movie Info
Year:

IMDB Rating:

6.1

IMDB Votes:

674

Countries:

Genres:

Tags:

Domestic:

$375,750 (96.6%)

+ Foreign:

$13,248 (3.4%)

= Worldwide:

$388,998

Opening
Weekend:

$175,336 (64 theaters, $2,739 average) % of Total Gross: 46.7%

Release:

64 theaters