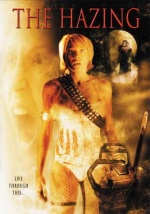 The horror thriller by Rolfe Kanefsky begins with a group of partying college kids attempting to spend the night in a spooky deserted mansion as part of an attempt to pledge fraternities and sororities in a Halloween night. Some demonic force is unleashed soon, they die one by one as they had accidentally interrupted a satanic ritual of professor Kapps, whose black demonic spirit began to possess them. The group of students has to fight to survive, but none of them can trust each other as some of the kids became a puppets of an evil professor.
Tagline
- Best friends are hard to keep... Alive.
Live through this...
User Reviews of The Hazing
Movie Info
Year:

IMDB Rating:

5.3

IMDB Votes:

568

Countries:

Genres:

Tags: