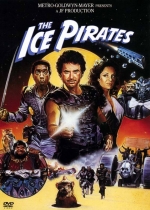 In the far future water is the most valuable substance. Two space pirates are captured, sold to a princess, and recruited to help her find her father who disapeared when he found information dangerous to the rulers. A real Space Opera with sword fights, explosions, fighting robots, monsters, bar fights and time warps.
Tagline
- See A Totally Spaced Adventure!
SEE... A Universe on the Rocks! SEE... Great Special Affects! SEE... Space Herpie the Love Bug! SEE... The Evil Emperor and his Bird! SEE... Action-Packed Action! SEE! Ferocious Space Possums!
- SEE A Universe on the rocks TREMBLE at the ferocious space possums! CATCH Space Herpie the Love Bug [Video Australia]
You have to be there to see it.
User Reviews of The Ice Pirates
Movie Info
Year:

IMDB Rating:

5.1

IMDB Votes:

2515

Countries:

Genres:

Tags: