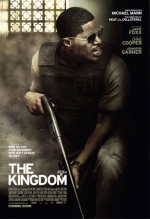 The suspense thriller follows an elite team of FBI agents who are sent to Saudi Arabia to investigate the deadly bombing at an American compound. Once in the desert kingdom, Ronald Fleury (Jamie Foxx), Grant Sykes (Chris Cooper), Adam Leavitt (Jason Bateman) and Janet Mayes (Jennifer Garner) must race against time to find a perpetrator before he strikes again. But they meet with the suspiciousness and resistance of Saudi officials who consider the crime to be a local matter and want to get the American agents out of the country. Thus they throw bureaucratic obstacles in the team's way so that they can't crack the case within the deadline. Nevertheless, the crew gains the trust of a scrupulous police officer, Faris Al Ghazi (Ashraf Barhoum), who agrees to help them unlock the secrets of the brutal mass murder.
Tagline
- Under fire. Under pressure. Out of time.
How do you stop an enemy who isn't afraid to die?
An elite FBI team sent to find a killer in a hostile country
- An elite FBI team sent to find a killer in Saudi Arabia. Now they have become the target.
User Reviews of The Kingdom
Movie Info
Year:

IMDB Rating:

7.3

IMDB Votes:

8196

Countries:

Genres:

Tags:

Chase, Explosion, Gun, Twist in the end, Blood splatter, Death, Police, Revenge, Shot in the chest, Shot in the leg



Domestic:

$47,536,778 (54.9%)

+ Foreign:

$39,072,011 (45.1%)

= Worldwide:

$86,608,789

Opening
Weekend:

$17,135,055 (2,793 theaters, $6,135 average) % of Total Gross: 36.0%

Release:

2,836 theaters