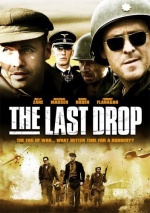 World War II should be ended before Christmas. In this daring attempt 35,000 British troops are dropped behind the enemy lines in occupied Holland. Meanwhile, a small top-secret group of skilled men, codename "Matchbox", is shot down on its way to the landing zone where they should carry out an order to get hold the valuable booty and bring it back to the US war effort. "Matchbox" soldiers suddenly ran into three renegade Germans who also intended to get the hidden cache of Nazi gold and, further, to lay claim to the horde.
Tagline
- The fog of war... what better time for a robbery?
What better time for a heist than in the fog of war.
User Reviews of The Last Drop
Movie Info
Year:

IMDB Rating:

4.6

IMDB Votes:

716

Countries:

Genres:

Tags: