The League of Extraordinary Gentlemen
Movie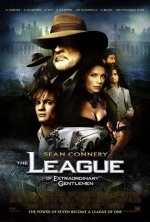 Set in England during the Victorian age, the tale brings together well-known figures from classic literature. The League of Extraordinary Gentlemen is a team of superheroes led by intrepid adventurer Allan Quatermain (Sean Connery) and comprised of invisible man Rodney Skinner (Tony Curran), Captain Nemo (Naseeruddin Shah), Dracula vampiress Mina Harker (Peta Wilson), Dorian Gray (Stuart Townsend), American secret service agent Tom Sawyer (Shane West), and Dr. Jekyll/Mr. Hyde (Jason Flemyng). The League members have an urgent assignment to scotch the mysterious Phantom who is intent on turning the nations of the world against one another so as to rule the world. Using Captain Nemo
Tagline
- A hunter... Live for the chase.
A Rogue. A Scientist. A Spy. A Hunter. A Vampire. A beast. An Immortal
- A vampire... A killer with a kiss.
An Adventure in a League of Its Own
- An invisible man... The unseen assassin.
Dr. Jekyll and Mr. Hyde... The devil inside.
- Prepare for the Extraordinary
The power of seven become a league of one
- This summer, Join the League.
This summer, the bad will fight for good.
- Waiting To Be Impressed? You're About To Be.
User Reviews of The League of Extraordinary Gentlemen
Movie Info
Year:

IMDB Rating:

5.4

IMDB Votes:

26395

Countries:

Genres:

Tags:

Automobile, London england, Martial arts, Missile, Murder, Sabotage, Sea, Bomb, Explosion, Twist in the end



Domestic:

$66,465,204 (37.1%)

+ Foreign:

$112,800,000 (62.9%)

= Worldwide:

$179,265,204

Opening
Weekend:

$23,075,892 (3,002 theaters, $7,686 average) % of Total Gross: 34.7%

Release:

3,002 theaters