The Living Daylights
Movie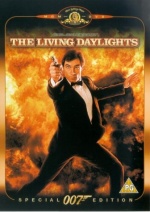 After Bond helps Russian officer Georgi Koskov ('Jeroen Krabbe'(qv)) make a daring defection to the West, the intelligence community is shocked when Koskov is abducted from his remote hiding place. Bond leaps into action, following a trail that leads to the gorgeous Kara ('Maryam d'Abo'(qv)), who plays Bond as easily as she plays her Stradivari cello. As they unravel a complex weapons scheme with global implications, they are forced into hair-raising chases, a riveting jailbreak and an epic battle in the Afghanistan desert with tanks, airplanes and a legion of freedom fighters on horseback.
Tagline
- Living on the edge. It's the only way he lives.
The most dangerous Bond. Ever.
- The new James Bond... living on the edge.
User Reviews of The Living Daylights
Movie Info
Year:

IMDB Rating:

6.5

IMDB Votes:

8700

Countries:

Genres:

Tags: