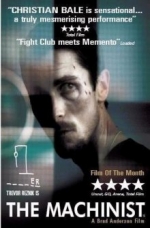 "The Machinist" is a film about a man who hasn't slept in a year, and he starts thinking that he's losing his mind, when he starts seeing hallucinations, and his perception of reality becomes twisted. He's haunted by a co-worker that no one else can see, and keeps finding post-it notes with secret messages on his fridge...
Tagline
- A little guilt goes a long way...
How do you wake up from a nightmare, when you're not asleep?
- Trevor Reznick is four letters away from the truth.
User Reviews of The Machinist
Movie Info
Year:

IMDB Rating:

7.8

IMDB Votes:

32951

Countries:

Genres:

Tags:

Chase, Murder, Ex convict, Los angeles california, Power failure, Train, Twist in the end, Blood, Death, Female nudity



Domestic:

$1,082,715 (13.2%)

+ Foreign:

$7,120,520 (86.8%)

= Worldwide:

$8,203,235

Opening
Weekend:

$64,661 (3 theaters, $21,553 average) % of Total Gross: 6.0%

Release:

72 theaters