The Mummy: Tomb of the Dragon Emperor
Movie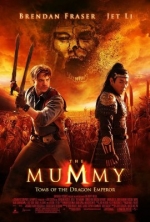 Mummy: Tomb of the Dragon Emperor is the third part to the film series that began with The Mummy. The game was introduced shortly after. However, though the game begins well and seems promising at first, each one of the fantastic sequences is poorly delivered. There are six levels to this game. It can be played on Nintendo Wii and PlayStation 2.
The game follows the story of the film. The detailing work of the film has been done very nicely. The player gets to interact in a variety of environments. But there are some flaws that make this game an annoying one.
Mummy: Tomb of the Dragon Emperor starts off well. But if you are able to stick to it till the end, hats off to you for your patience. There are a series of mindless combat sequences that leave you wondering. It is a piece of cake to kill the combatants as they come armed only with swords whereas; Rick O'Connell and Alex are in possession of far superior weapons.
The camera is very rigid as in it becomes difficult to distinguish what lies ahead of you. The game becomes slow frequently due to some unwanted gesture sequences. Then there is the problem of being trapped by invisible walls. This affects the movements of the players as also it becomes impossible to enjoy the superb locations of Egypt, India and China.
Mummy: Tomb of the Dragon Emperor sees the problem of the horrible boss battle. The emperor tries to attack you but all you can do to save yourself is fumble with your controls. The Emperor can leap upon you and at the same emit shock waves. But the controls are too rigid for you to be able to do anything. Thus Mummy: Tomb of the Dragon Emperor fails to live up to expectations.
User Reviews of The Mummy: Tomb of the Dragon Emperor
Movie Info
Year:

IMDB Rating:

5.3

IMDB Votes:

17880

Countries:

Genres:

Tags:

Domestic:

$102,277,510 (26.1%)

+ Foreign:

$289,850,238 (73.9%)

= Worldwide:

$392,127,748

Opening
Weekend:

$40,457,770 (3,760 theaters, $10,760 average) % of Total Gross: 39.6%

Release:

3,778 theaters