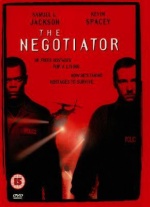 Negotiator is a person who is to conduct talks with a terrorists or another kind of criminals when hostages are taken. When a police negotiator Danny Roman (Samuel L. Jackson) standing on his own legs, one of the best negotiators in Chicago, is framed and faced the perspective of serving time for a murder he not committed, he has to take hostages. His friend is killed by corrupt cops, and the detractive documents are stealthily placed to defile Roman's reputation. When Inspector Terence Niebaum (J.T. Walsh) and his equally corrupted colleagues conduct a search in Roman's place of abode, he takes them as hostages and demands to talk with a negotiator who serves in another police precinct, because he knows that the killer of the friend is between his own counterparts. Chris Sabian (Kevin Spacey), a high-skilled negotiator, is involved and all that Roman can do is to try to prove his innocence and to expose the real criminals.
Tagline
- Chicago's two top negotiators must face each other. One of them is holding hostages. The other is demanding surrender. And everyone's holding their breath.
He frees hostages for a living. Now he's taking hostages to survive.
User Reviews of The Negotiator