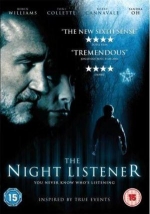 The suspenseful drama revolves around Gabriel Noone (Robin Williams), an aging gay who works as a late-night radio show host. When his program is on the air, Gabriel receives a phone call from a 14-year-old listener, Pete (Rory Culkin), who tells him the sad story of his hard life. As a child, Pete suffered sexual abuse at the hands of his parents who are serving time in federal prison now. After his parents' arrest his life, however, didn't become easier. Pete was adopted by a kind-hearted blind woman, Donna D. Logand (Toni Collette), but shortly afterwards doctors found that he had a terminal case of AIDS. The story of the little martyr evokes strong emotions in Gabriel, and he develops a friendly phone relationship with the boy. Eventually, Gabriel begins to have paternal feelings for the poor boy. But he soon discovers the bitter truth...
Tagline
- You never know who's listening.
Listen for the truth.
User Reviews of The Night Listener
Movie Info
Year:

IMDB Rating:

5.9

IMDB Votes:

3441

Countries:

Genres:

Tags:

New york, Title spoken by character, Break up, Airplane, Boyfriend, Dog, Hospital, Based on novel, New york city, Playboy magazine



Domestic:

$7,836,393 (73.7%)

+ Foreign:

$2,803,293 (26.3%)

= Worldwide:

$10,639,686

Opening
Weekend:

$3,554,134 (1,367 theaters, $2,599 average) % of Total Gross: 45.4%

Release:

1,370 theaters