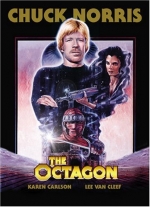 In this spectacular action movie Chuck Norris stars as Scott James, a retired martial artist who is hired by wealthy woman Justine (Karen Carlson) to protect her from a ninja death squad. At first he is reluctant to accept the assignment, but when he learns that the ruthless and violent crime ring is headed by his archenemy Tadashi Yamashita (Lee Van Cleef), he sets out on a perilous mission to wipe out the vicious ninjas.
Tagline
- No-one will admit they still exist! Unholy masters of terror...
Only one man can stop them.
- The Ninja, unholy masters of terror. No one will admit they still exist
User Reviews of The Octagon
Movie Info
Year:

IMDB Rating:

4.6

IMDB Votes:

927

Countries:

Genres:

Tags: