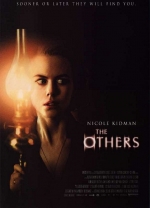 Set on the remote Isle of Jersey in 1945, the horror drama focus on a beautiful young woman named Grace Stewart (Nicole Kidman) who raises her two small kids alone waiting for her husband to return from the front. All her worries are connected with a rare disease of Nicholas (James Bentley) and Anne (Alakina Mann) who are deathly allergic to bright light. But Grace's anxiety becomes aggravated when Anne reveals to her mother that she sees ghosts appearing in every room of the house. At first, the devout woman refuses to believe that other-worldly beings can intrude into the world of the living. However, events over the next few days persuade her that there are other people, invisible and terrible, in the house with them.
Tagline
- Close Every Door, Turn Off Every Light, And Look For The Others
Do you believe in ghosts ? She didn't...
- How do you keep them out, when they've already invited themselves in?
"No door is to be opened before the previous one is closed"
- Sooner Or Later They Will Find You.
User Reviews of The Others
Movie Info
Year:

IMDB Rating:

7.7

IMDB Votes:

53473

Countries:

Genres:

Tags:

Murder, Twist in the end, Death, Cemetery, Bible, Mother son relationship, Religion, Suicide, Supernatural, Twist ending



Domestic:

$96,522,687 (46.0%)

+ Foreign:

$113,424,350 (54.0%)

= Worldwide:

$209,947,037

Opening
Weekend:

$14,089,952 (1,678 theaters, $8,396 average) % of Total Gross: 14.6%

Release:

2,843 theaters