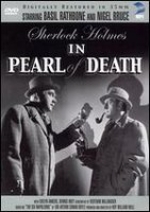 Based on a Conan Doyle's story "The Six Napoleons," this enigmatic crime thriller follows the investigation of master detective Sherlock Holmes (Basil Rathbone) and his faithful assistant Dr. Watson (Nigel Bruce) when the priceless "Borgia Pearl", a jewel with a sinister reputation for bringing murder to its owner, is stolen from the British Museum in London by master criminal Giles Conover (Miles Mander). The investigation takes a weird turn when a series of ghastly murders begins, and Holmes discovers the link between the two cases.
Tagline
- Marked... for sudden and violent Death! A Girl risked everything for it! 20 men lost their lives for it! Who was the Creeper?
The master minds tackle the master crimes!
User Reviews of The Pearl of Death
Movie Info
Year:

IMDB Rating:

7.5

IMDB Votes:

1024

Countries:

Genres:

Tags: