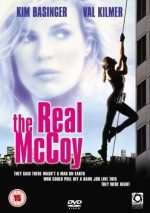 Caren McCoy (Kim Basinger) is released after serving the long term in a prison. She decides to get rid of her criminal past and to begin a new life which should be devoted to her son, but she is forced to make a new robbery, as her child is kidnapped. Being compelled to filfull the criminal plan, she makes several minor modifications to the plot...
Tagline
- 20 guards. 30 tons of steel. A security system second to none. They said there wasn't a man on earth who could pull off a bank job like this. They were right.
Calm under pressure... Cool under fire.
User Reviews of The Real McCoy
Movie Info
Year:

IMDB Rating:

5.1

IMDB Votes:

2463

Countries:

Genres:

Tags: