The Replacement Killers
Movie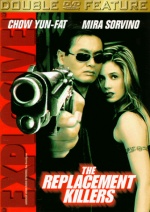 Chinese immigrant John Lee (Yun-Fat Chow) works as a hitman for crime lord Terence Wei (Kenneth Tsang) who wants to revenge the spilth of his son's blood on police detective Stan Zedlov (Michael Rooker). Lee, instructed to kill Zedlov's seven-year-old son, can't pull the trigger when the kid is in his sight. Mafia is a cruel taskmaster and does not excuse mistakes. Wei sends some replacements to Shanghai to kill Lee's family. In order to reach his mother and sister before the thugs get to them, Lee needs a phony passport. So he gets in touch with master forger and gunslinger Meg Coburn (Mira Sorvino). When Wei's hitmen get on Lee's trail, Meg helps him escape the "Replacement Killers."
Tagline
- Conscience has no place in the heart of an assassin.
Kill or be replaced.
- When people need to disappear, they come to see Meg. When they're about to go, they never see John coming.
User Reviews of The Replacement Killers
Movie Info
Year:

IMDB Rating:

5.7

IMDB Votes:

7663

Countries:

Genres:

Tags: