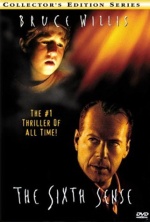 Few months ago an experienced child psychologist Malcolm Crowe (Bruce Willis) has been wounded by an ex-patient of him who committed suicide after the assault. Doctor starts to study a new interesting case: young boy Cole contacting with ghosts, asking for help. The boy sees people who don't know they are dead. Cole (Heily Joe Osment) is afraid of the haunting shadows, Dr Crowe finds out that the boy is sane and phantoms really exist. Moreover, the doctor discovers his own part in the whole breathtaking story
Tagline
- America's #1 Movie Four Weeks In A Row!
Can You Keep the Secret?
- Discover the secret of 'The Sixth Sense'!
- Not every gift is a blessing.
Now you believe in ghosts
- The #1 Thriller of all time!
There are ghosts walking among us, looking for help... They have found it.
User Reviews of The Sixth Sense
Movie Info
Year:

IMDB Rating:

8.2

IMDB Votes:

141773

Countries:

Genres:

Tags:

Blockbuster, Twist in the end, Blood, Death, Child in peril, Single mother, Flashback sequence, Teacher, Director cameo, Redemption



Domestic:

$293,506,292 (43.6%)

+ Foreign:

$379,300,000 (56.4%)

= Worldwide:

$672,806,292

Opening
Weekend:

$26,681,262 (2,161 theaters, $12,346 average) % of Total Gross: 9.1%

Release:

2,821 theaters