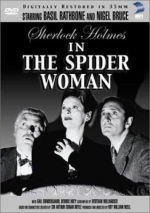 Based on several stories by Sir Arthur Conan Doyle, this riveting murder mystery finds master sleuth Sherlock Holmes (Basil Rathbone) and his faithful assistant Dr. Watson (Nigel Bruce) trying to solve the case of the "Pajama Suicides." London is rocked by a rash of baffling suicides of wealthy gamblers, but Holmes in inclined to believe that they are premeditated murders. He feigns his own death and assumes the identity of Rajni Singh, a retired Indian officer with a paralyzed arm, so that he can move undetected all around the city. He stalks the city's gaming clubs and eventually meets a mysterious, perfidious woman named Adria Spedding (Gale Sondergaard). To his dismay, Holmes soon falls into Spedding's clutches from which he may never escape...
Tagline
- Grim mystery to hold you breathless!
Here is crawling death sent to Sherlock Holmes by the most fiendish killer of all...
User Reviews of The Spider Woman