The Thomas Crown Affair
Movie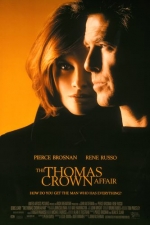 The audacious theft of a Claude Monet painting from New York City's Metropolitan Museum of Art is brilliantly executed in broad daylight. The priceless artwork is stolen by Thomas Crown (Pierce Brosnan), an adventurous self-made billionaire who can easily afford to buy anything he desires but there is nothing he enjoys better than walking on the razor's edge and winning. Thomas is a respected businessman therefore he is the last person the police suspect. But there is one person, namely Catherine Banning (Rene Russo), a smart insurance investigator who feels in her bones that Crown is involved in the theft. Hired to assist the police in retrieving the masterpiece, Catherine resorts to various means, from intelligence and cunning to personal charm, to accomplish her mission.
Tagline
- When You Raise The Stakes, You Heighten The Attraction.
How do you get the man who has everything?
- Crime does pay. Handsomely.
User Reviews of The Thomas Crown Affair
Movie Info
Year:

IMDB Rating:

6.6

IMDB Votes:

27035

Countries:

Genres:

Tags:

Helicopter, Caper, Character name in title, Remake, Thief, Twist in the end, Detective, Nudity, Police, Painting



Domestic:

$69,305,181 (55.8%)

+ Foreign:

$55,000,000 (44.2%)

= Worldwide:

$124,305,181

Opening
Weekend:

$14,600,719 (2,427 theaters, $6,015 average) % of Total Gross: 21.1%

Release:

2,427 theaters