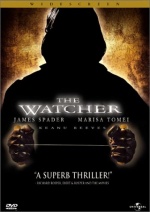 FBI agent Joel Campbell (James Spader) spent over five years chasing a cunning serial killer, David Allen Griffin (Keanu Reeves). Frustrated and all to pieces after many years of a fruitless search, Campbel can hardly comprehend the maniac's perverted logic and goes into retirement. He moves to Chicago in the hope of finding peace of mind and beginning a new life. Nothing seems to prevent him from making a clean break with his terrible past. But some months later, murder wave swamps Campbell's new hometown. This is undoubtedly the handiwork of David Griffin who decides to play a sadistic cat-and-mouse game with Campbell and mails him photos of his soon-to-be victims. Campbell must stop the gruesome killer by all means otherwise he will be Griffin's final victim.
Tagline
- Don't go home alone.
Someone wants to play.
User Reviews of The Watcher
Movie Info
Year:

IMDB Rating:

5.2

IMDB Votes:

8098

Countries:

Genres:

Tags:

Helicopter, Product placement, Exploding gas station, Flashback sequence, Lasersight, Police chase, Car chase, Cemetery, Photograph, Fall from window



Domestic:

$28,946,615 (61.2%)

+ Foreign:

$18,321,214 (38.8%)

= Worldwide:

$47,267,829

Opening
Weekend:

$9,062,295 (2,742 theaters, $3,304 average) % of Total Gross: 31.3%

Release:

2,777 theaters