The Witches of Eastwick
Movie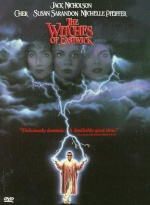 Alex, Jane, and Suki are three bored New England women left to live without their husbands. They innocently conjure up a mystery man, who could satisfy all their desires. A new man moves into town - and he fits the bill perfectly. Daryl Van Horne is filthy rich and wild eyed, and within days the three women have all discovered almighty power within themselves. Will good triumph over evil, or will Daryl continue to have his evil way with his witches?
Tagline
- Something wicked this way comes.
Three beautiful Witches, One lucky Devil
- Three Beautiful Women. One Lucky Devil.
User Reviews of The Witches of Eastwick
Movie Info
Year:

IMDB Rating:

6.3

IMDB Votes:

12613

Countries:

Genres:

Tags: