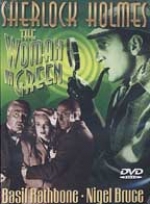 Based on Conan Doyle's story "The Adventure of the Empty House," this gripping detective drama centers on Sherlock Holmes (Basil Rathbone), a brilliant sleuth famous for his skillful use of deductive reasoning and astute observation, and his faithful associate Dr. Watson (Nigel Bruce), who are assigned by Scotland Yard to crack the bizarre case of the "Finger Murders". Four young beautiful women are found murdered, all with their right forefingers severed. The trail of evidence leads to the fiendish Professor Moriarty (Henry Daniell) who, with the help of his glamorous accomplice Lydia Marlowe (Hillary Brooke), sends Holmes into a trance from which he may never awake.
Tagline
- From Her LIPS - Poison That Bred MURDER!
Temptress of Pleasure - or Mistress of Murder?
User Reviews of The Woman in Green
Movie Info
Year:

IMDB Rating:

6.8

IMDB Votes:

1484

Countries:

Genres:

Tags: