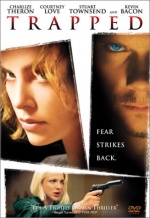 Joe Hickley thinks he's got a great scheme: kidnap the child of rich parents, hold it for 24 hours, keeping the mother under his control while an accomplice gets the ransom from the father, who is on a trip. But things go very wrong when he tries this scheme on the Jennings family, in part because their daughter Abby is asthmatic, and in part because the Jennings' find out more than Hickley wants them to know.
Tagline
- Fear Strikes Back.
It was the perfect plan until she refused to be the perfect victim!
Movie Info
Year:

IMDB Rating:

6

IMDB Votes:

6234

Countries:

Genres:

Tags:

Chase, Helicopter, Revenge, Doctor, Cellular phone, Airplane, Based on novel, Kidnapping, Seaplane, Ransom



Domestic:

$7,073,251 (52.7%)

+ Foreign:

$6,341,165 (47.3%)

= Worldwide:

$13,414,416

Opening
Weekend:

$3,210,765 (2,227 theaters, $1,441 average) % of Total Gross: 45.4%

Release:

2,227 theaters