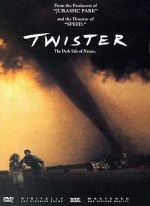 TV weatherman Bill Harding is trying to get his tornado-hunter wife, Jo, to sign divorce papers so he can marry his girlfriend Melissa. But Mother Nature, in the form of a series of intense storms sweeping across Oklahoma, has other plans. Soon the three have joined the team of stormchasers as they attempt to insert a revolutionary measuring device into the very heart of several extremely violent tornados.
Tagline
- Don't Breathe. Don't Look Back.
Go for a ride you'll never forget!
- The Beautiful yet Destructive side to life
Movie Info
Year:

IMDB Rating:

5.9

IMDB Votes:

31573

Countries:

Genres:

Tags:

Blockbuster, Title spoken by character, Obsession, Cow, Disaster, Wind, Weatherman, Scientist, Babe scientist, Gasoline truck



Domestic:

$241,721,524 (48.9%)

+ Foreign:

$252,750,000 (51.1%)

= Worldwide:

$494,471,524

Opening
Weekend:

$41,059,405 (2,414 theaters, $17,008 average) % of Total Gross: 17.0%

Release:

2,808 theaters