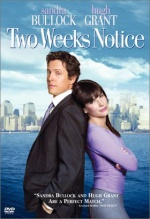 Bullock stars as Lucy Kelson, Chief Counsel for the Wade Corporation, one of New York City's top commercial real estate developers. She's a brilliant lawyer with a sharp, strategic mind. She also has an ulcer and doesn't get much sleep. It's not the job that's getting to her. It's her millionaire boss, George Wade (Hugh Grant). Handsome, charming and undeniably self-absorbed, he treats her more like a nanny than a Harvard Law grad and can barely choose a tie without her help. Now, after one year of calling the shots-on everything from his clothes to his divorce settlements - Lucy Kelson is calling it quits.
Tagline
- A comedy about love at last glance.
En romantisk komedie om k
- Over. Done. Finished. A comedy about love at last glance.
This winter, take a second look at the one beside you.
User Reviews of Two Weeks Notice
Movie Info
Year:

IMDB Rating:

5.7

IMDB Votes:

24374

Countries:

Genres:

Tags:

Helicopter, Divorce, Number in title, Chrysler building new york, Marriage proposal, Title spoken by character, Love, Male female relationship, Wedding, Womanizer



Domestic:

$93,354,851 (46.9%)

+ Foreign:

$105,688,391 (53.1%)

= Worldwide:

$199,043,242

Opening
Weekend:

$14,328,494 (2,755 theaters, $5,200 average) % of Total Gross: 15.3%

Release:

2,755 theaters