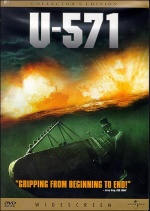 The action takes place during the World War II. A crew of American mariners is given the top-secret assignment of penetrating into a submerged German U-Boat submarine to capture Enigma, a Nazi coding device that will allow the Allied naval forces to win the war much faster. However, they are unaware that the Germans also head for U-571 after a wrecked vessel sends out an SOS signal. As a result, nine U.S. soldiers become trapped in an enemy submarine in the middle of hostile waters with little chance of survival.
Tagline
- Heroes are ordinary men who do extraordinary things in extraordinary times.
You won't come up for air until it's over!
Movie Info
Year:

IMDB Rating:

6.4

IMDB Votes:

21464

Countries:

Genres:

Tags:

Person on fire, Submarine, U boat, Wwii, Cryptography, Slide locked back, Tommy gun, Destroyer, Encryption, Enigma machine



Domestic:

$77,122,415 (60.4%)

+ Foreign:

$50,544,000 (39.6%)

= Worldwide:

$127,666,415

Opening
Weekend:

$19,553,310 (2,583 theaters, $7,570 average) % of Total Gross: 25.4%

Release:

2,820 theaters